Key Components of a Membership Website Business Plan
Do you have a business plan for your membership website? Before you get started, you need to map out where you are going and why you are going.
There are many key reasons why entrepreneurs and website owners are so excited about starting a membership website business. Membership businesses generate automatic recurring revenue and present website owners with the opportunity to create a solid passive income from their work.
The membership website trend seems to be almost everywhere you look. Communities, brands, individuals and publications are all adopting some version of a premium membership model, including:
Content creators on YouTube who use Patreon memberships to make thousands of dollars for every video they produce
Online communities such as Keto Connect that have memberships that help people perfect their lifestyles while enjoying a ketogenic diet
Well-known online publications such as ESPN.com that place a lot of their premium content behind a membership paywall
But if you're considering the launch of your own membership website business, you might be overwhelmed with the details. After all, creating a WordPress membership site seems like a major project to take on.
And it is.
However, it's important to know that having a successful membership site doesn't mean that you need to first build a massive following of millions of social media subscribers. In fact, all you really need is a few hundred real fans of your content and you'll have what you need to succeed with a membership business.
In this guide, we'll walk you through the key components of a successful membership website business plan, and show you how to get started the right way.
A Stress-Free Approach To a Membership Website Business Plan
If you want to make money from a membership business, you'll need to make it from gaining paying members. Of course, in a perfect world you'd get as many people to sign up as humanly possible, right?
After all, the more members you have, the more potential income you create.
If you want to increase your number of members, your site is going to need additional traffic. And to get more traffic, you would need to reach a larger audience.
You could pay thousands of dollars and invest hours of your time (which also costs you) to create a broader reach. Or you could be intentionally invested in building your community.
One of these will achieve lasting results setting a firm foundation for your business to grow.
Find Super Fans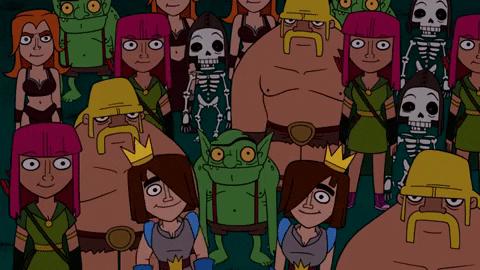 To succeed with a membership business, you don't need to have millions of followers or thousands of dollars to spend on marketing. In fact, to make a great living as a content creator, you actually only need 1,000 (or less) of your super fans.
Fans intentionally invest in your journey by listening to what you say, sharing what you offer, and buying almost all of your content or products. They believe. are users who listen to, buy, or use almost all the content you produce. They trust your words and look to you for guidance and advice. Most importantly, super fans tell others and create more super fans.
Super fans think about you as their ride-or-die source of information and put a lot of trust and respect into what you say.
They'll pay for your courses, buy your ebooks, subscribe to your newsletters, or watch every video you produce within a day of publishing. When you hone in on these super fans and their needs, you immediately eliminate the need to attract brand new fans that are unlikely to become members.
By serving your super fans, your online membership business starts to be a lot more fun and informed as well. Instead of serving demographics and statistics, you're serving the actual people who love and support your work.
When creating your membership website business plan, remember the super fan.
Create a Membership Experience That's Intimate and Unique
Be willing to start small.
Consider beginning with a small audience as a big advantage. It gives you the ability to tailor your membership to be more intimate and personal. This would be very difficult to do if you were working with an audience of 100,000 members.
Take plenty of time to create a highly unique experience for paid members. When they sign up, reach out to them directly with a personal message. Even give them a call and talk for a half to, answering their questions or giving them insider tips and tricks.
Basically, anything you can do to make your members' experience special is exactly what you should be doing.
When you do this, your members will do a lot of your marketing and sales for you by default. When you keep your relationships strong with members, they'll be happy (and tell a lot of new people about your site!).
Lessen the Feeling of Being Overwhelmed
When you build a paid audience, you'll be more motivated than ever before to produce the best possible work. When this happens, be very careful not to start focusing on quantity over quality of work.
No matter how much a fan enjoys your work, too much of it can quickly overwhelm them.
Membership sites such as Blinkist and Instaread are incredibly popular with users for a good reason: These sites deliver a lot of value in a swift and straightforward way.
The same should be said about your new membership website business.
Another good example of keeping things simple and straightforward is the membership site The Listener. It has a very clear value proposition of high quality podcasts that are streamlined and provided to members with daily notifications.
What a Successful Membership Website Looks Like
Learn from Others
You don't need a huge audience to gain a ton of momentum building a membership business. All you need is a small group of users that will support you through thick and thin. Some of the most successful membership businesses started with a tiny audience, or no audience at all, and were able to become very large membership platforms.
One example is an entrepreneur named Faye Cornhill.
Faye is a business coach and strategist that soft-launched her membership site to a tiny sample of only 77 business owners. Ten of these creative people purchased full lifetime access to her exclusive membership at $500 each.
Right away, Faye has produced $5,000 in revenue that she used to propel her membership business forward into a lot of success.
The publication called The Correspondent was an incredibly popular new membership site that ceased operations on Dec. 31, 2020. At the height of this membership business, they boasted over 50,000 members.
All of the journalism done on The Correspondent was funded by its members, who followed a "choose what you pay" membership model. The site built immediate trust with readers by providing real information that wasn't filled with clickbait titles or sensational headlines.
Then there's The Listener, which is a membership site that shares interesting and relevant podcasts with its paid members.
After signing up for a membership, The Listener will send you podcast episodes, via a personal newsletter, that are hand curated just for you. This sounds like an incredibly simple concept, because it is.
The one-person team behind The Listener is a woman named Caroline Crampton. When your newsletter arrives, she'll send you three recommendations for podcasts to your inbox. A membership costs only $5 per month, and The Listener attracts a very passionate community of members that love receiving their paid newsletter.
The Membership Website Business Plan Model
Building a membership site gives brands and content creators the exciting opportunity to create passive, sustainable income. But the success of your membership site will depend on how much value your members receive when they join.
Of course, some membership sites will find success no matter what the offer is, be it exclusive:
Email newsletters
Blog content
Videos
Podcasts
Courses
All of the above
Still, success in this business will boil down to how much value is in the content your members will gain access to after they cross over your paywall.
Always keep in mind that your content is what will either make or break your new membership site. Avoid falling into the trap of trying to find other membership sites that work and replicating exactly what they do.
Instead, hitch your star to what makes your unique little community really stand out. What offer can you make that only you can offer? Answering that question is the very beginning of the membership business lifecycle.
By doing so, you'll see how quickly you can start building that small but powerful audience of your 1,000 real fans. Your unique offer will compel the people that trust you to buy a membership and begin a long-lasting, mutually beneficial relationship.
For WordPress site owners, several powerful membership plugins exist that will get you going on the technical end of setting up your membership site. Restrict Content Pro is one of the best WordPress membership plugins.
This plugin boasts essential membership features, like:
An elegant and easy-to use backend that manages your memberships
Integrations with important payment gateways
Analytics reports
Unlimited subscription packages
Member emails
Simple setup that makes it easy to deliver content to subscribers
App integrations that help automate workflow
If you're ready to launch a membership site and want to make it as simple as possible on the technical end of things, Restrict Content Pro is a great option.
Drive Before You Buy
You can try out the membership system with the Restrict Content Pro Demo site before you invest in it.
Launching a Successful Membership Business With a Small Audience
It's one thing to understand that you don't need to be deterred from starting a membership business when you only have a small audience.
It's quite another thing to actually succeed in this business when your audience is tiny or nonexistent.
Keep in mind that success may look a bit different depending on the type of site you launch. But the following five steps will be the same for every membership website business plan.
1. Validate the Offer
This is listed as the first step because it's the most crucial.
The first step to take is to determine if there's a demand for the membership offer you plan on presenting to your users. To do this, you need to validate the offer with real world evidence and data that people actually want to buy your membership.
The easiest way to do this is by finding other content creators or businesses that are already offering something similar to what you plan on offering. Of course, you'll still need to figure out what makes your specific offer unique.
Another way to validate the offer is by using a paid tool like Ahrefs (or a free one such as Ubersuggest) to research what users are searching for on the Google platform. The more users you see searching for a particular keyword, the more demand there'll be for a membership.
Consider applying this same principle using your social media accounts, other search engines (YouTube, Quora, Reddit), and industry-relevant forums.
If you already have an audience, ask them specific questions related to what you will offer in a membership. Listen to their feedback intently, as it will inform the decisions you make.
2. Finding Your Super Fans
After you've validated that users actually want what you plan to offer, the next step is finding the people who will get excited about it.
These are your real fans.
Do some research to find out what other areas of the Internet your real fans congregate. If you want to launch a membership about self-publishing, for example, you'll want to spend a good amount of time in a community like Goodreads.
You can also find author-specific user groups on LinkedIn and Facebook,
Remember that you're only looking for the initial audience of your real fans. Focus on quality interactions rather than quantity of interactions. Put your focus on cultivating these specific relationships. Take extra time to gain respect, trust and authority within your niche.
Doing this will pay big dividends down the road.
3. Be Meaningful When You Show Up
In the world of membership websites, there's a false idea that a site becomes successful because it feeds members a lot of content. But members aren't paying just for information and content.
What a member pays for will vary member-by-member, but will almost always boil down to one or more of these things:
Progress – members look for unique insights that help them achieve specific goals
Utility – members want useful info that's given in ways that they can't find elsewhere
Community – members enjoy having a simple way to find other like-minded people
Most people aren't going to sign up for an online weight loss membership just to read articles or watch videos. They sign up because they're seeking a supportive community with helpful tools that help them lose weight.
Your content needs to help members achieve the goals they're seeking. When you spend time understanding the needs of your members, you'll learn how to make your memberships more participatory and interactive.
4. Use Tools That Allow You To Scale
Even if you're starting small and your goal is to earn 1,000 members from your true fans, you still want to give your membership site the ability to grow and scale up.
Because of this, it's important to start off your journey with tools that allow for scalability and growth. This is why building a membership website business using self-hosted WordPress and the Restrict Content Pro plugin is the best way to go.
First of all, you'll be able to launch your WordPress site for less than $100. All you'll need to do is register a domain name and find a WordPress site host.
Then, you can utilize the power membership site tool Restrict Content Pro to transform your site into a membership site.
No matter if your site has ten members or 100,000, these tools will all you'll need for now and into the future.
5. Sustain Growth
When you begin with a small audience, it gives you the opportunity to make the membership experience personal, unique and intimate. But as with any other business model, your task list will continue to grow as your membership business does.
Because of this, it's important to outsource as much work as you can. This is especially true for smaller, more menial tasks.
By doing this, you'll have a lot more time to focus on membership strategies and business growth.
Making Your Membership Website Business Plan Work
As you've read through this guide, you've learned a lot of information that can help you build a successful membership business. With Restrict Content Pro and a lot of other tools in the WordPress market, it's easier now than ever before to turn your dreams into a reality.
Remember, your WordPress site security is of the utmost importance. To keep hackers and malicious attackers at bay, make sure to download and install a WordPress security plugin.
Then, get a WordPress backup plugin that will be able to restore your site to its previous condition if it should ever be attacked or go down for technical reasons.